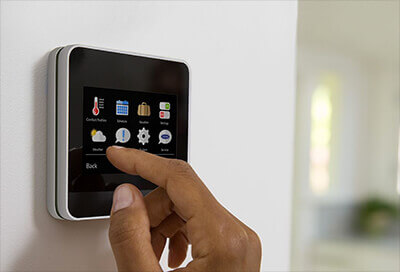 You've noticed that your thermostat clicks when it turns on your HVAC system. Now you are wondering if the sound is cause for concern.
WHAT CAUSES THE CLICKING SOUND IN YOUR THERMOSTAT?
Inside your thermostat is an electrical system that relies on circuits to control the flow of current. The clicking noise that you hear is one of the relays. A relay is a type of switch that opens and closes to complete a circuit. In simple terms, relays turn electrical current on and off within the thermostat. The clicking sound is the movement of the relay.
DOES A CLICKING THERMOSTAT NEED TO BE REPAIRED?
A clicking sound from your thermostat does not mean that it needs to be replaced if the heating system is working properly. Chances are that the thermostat not only clicks when the HVAC system turns on but also when it turns off. However, you may not notice it as much. In most cases, the clicking sound is more of a nuisance than an indication that the device is not working properly. You can reduce the clicking sound in your thermostat by:
Putting insulation in the wall around the thermostat
Tightening the mounting screws
WHAT TO DO IF A CLICKING THERMOSTAT IS ONLY PART OF THE PROBLEM
If a clicking thermostat is just one of the problems with your HVAC system, you should contact Air Patrol Air Conditioning to evaluate the equipment. Some signs to look for are:
System constantly runs
Uneven temperatures inside your home or business
Equipment that does not turn on
Equipment that quickly cycles between being on and off
High energy bills
WE CAN HELP WITH YOUR HVAC PROBLEMS
Having heating or cooling equipment break down costs you money and makes your home or business uncomfortable. At Air Patrol Air Conditioning, we provide residential and commercial HVAC services in the Dallas-Fort Worth area. We specialize in heating, cooling and air quality in addition to fireplaces and Carrier products. To learn more, contact us today to schedule an evaluation with one of our expert technicians.