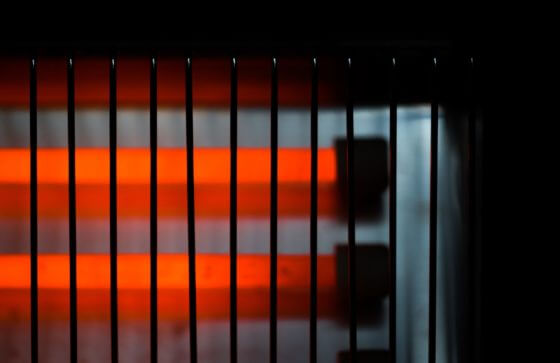 Space heaters can be a great way to warm up some of those rooms in your house that don't get enough heat. However, they can result in fires when they're not utilized correctly. In recognition of Fire Prevention Week, our team at Air Patrol Air Conditioning decided that discussing some of the top safety tips for space heaters would be appropriate. Following them can help you avert the danger of fire in your home.
PURCHASE ONE WITH SAFETY PROTECTIONS
When you purchase a space heater, you should be sure that it comes standard with some popular safety features. The first is the tip-over switch that turns the unit off whenever it senses that the device isn't in the upright position. The second is overheat protection, also referred to as the automatic shut-off. To prevent a fire from occurring, this will turn the unit off in the event of overheating.
THERMOSTAT AND A PLASTIC FACE
Two other features that your space heater should have are a thermostat and a plastic face. The thermostat is responsible for monitoring the indoor temperature and turning the unit on or off according to your specified setting. The plastic face is a protective grille that prevents your skin from coming into direct contact with the heating element. Never settle for a metal grille. It can heat up and burn your skin.
USE THE RIGHT SIZE FOR YOUR AREA
It can be easy to think that bigger is better when it comes to purchasing a space heater. However, that's not true. You should purchase a space heater that is capable of heating the size of the room where you intend to use it. This helps to prevent overheating and ensures that your room will be comfortably warm when using your space heater.
ALWAYS READ THE INSTRUCTIONS FIRST
It's best to always read the instructions that come along with your space heater. You should be aware of any potential hazards that they outline, and you'll want to ensure that you're operating it correctly. If paper instructions don't come with your space heater, you should be able to find a downloadable version at the manufacturer's website. Take the time to download and read it.
KEEP IT OUT OF HIGHLY TRAFFICKED AREAS
You want to put your space heater in a strategic location that is out of the way of the normal traffic flow of your room. Don't place the heater near the doorway or in a traffic route, as it will likely get kicked over or cause a tripping accident. When placing your heater, make sure that it's also about three feet away from any flammable objects like curtains or magazines.
INSPECT YOUR HEATER BEFORE EACH USE
Before you consider turning on your space heater, you'll want to inspect it to ensure that it's in good condition. This means checking for cracks around the entire unit. Take the time to assess the condition of the plugs and electrical connections. If you notice any cracks or frayed wires, don't turn the heater on. In that condition, it won't be safe.
USE SPACE HEATERS ONLY FOR SUPPLEMENTAL HEAT
Space heaters are designed as a supplemental source of heat. They're not meant to be the sole heating source for your entire home or apartment. Additionally, they should never be used to warm items like bedding, food, pipes or clothing. Space heaters should solely be utilized to provide auxiliary heat for your home.
HAVE ACTIVE SMOKE DETECTORS
When you opt to use a space heater, there's always the slight possibility that it could cause a fire in your residence. To help protect your household, you should install smoke detectors throughout your home. It's best to have one on every floor and outside any sleeping area. Be sure that you test the batteries inside your smoke detectors once a month. Replace the batteries every six months to ensure that they stay in optimal condition.
ONLY PLUG DIRECTLY INTO A WALL OUTLET
When you're using a space heater, you'll want to plug its cord directly into a wall outlet. Resist the urge to plug your space heater into an extension cord, power strip, or any outlet converter tool. All of these additional plug options can cause your space heater to potentially overheat and result in a home fire. It's also a good rule of thumb not to use the other electrical outlet in the pair where you've plugged in your space heater. Simply leave it open.
ALWAYS PLACE IT ON A LEVEL SURFACE
When picking out the perfect location for your space heater, you'll want to avoid any surfaces that are not level. Unlevel surfaces could allow your space heater to easily fall over and come into contact with flammable material. The unit could overheat and cause a fire. When choosing the ideal location for your space heater, there are some surfaces you'll definitely want to avoid. These include cabinets, furniture, tables, and particularly carpeting.
AVOID WET ROOMS
Water and electricity do not mix. For this reason, it's vital that you avoid placing your space heater in any wet room of your home, such as your kitchen or bathroom. Even a small amount of water that comes into contact with the electricity of the space heater can cause electrocution.
DON'T LEAVE YOUR HEATER UNATTENDED
When you're running your space heater, you should be at home and in the same room. Just because you have a thermostat that automatically turns your heater off and on, that doesn't mean that you should let it run unsupervised while you're away from it. In addition, be sure that you turn your space heater off before going to bed. Do not fall asleep with it on as it could, in a rare instance, create a house fire.
MAKE SURE IT HAS UL CERTIFICATION
You probably have multiple electronics in your home that come with a silver UL label. If you're like most people, though, you may not know what this stands for. UL is a global safety certification company. They test all sorts of products to ensure that they are safe for homeowners to operate. When you purchase your new space heater, ensure that it has a UL label on it.
OPT FOR ELECTRIC SPACE HEATERS INDOORS
There are many different types of space heaters out there, and they run on different fuels. The most common types are electric, oil, and gas space heaters. You'll want to reserve the oil- and gas-burning heaters for the outdoor environment. These emit harmful fumes that can be dangerous to the human respiratory system when contained indoors. Always opt for electric-powered space heaters when it comes to choosing the best and safest option for an indoor area.
HELPFUL LOCAL HEATING EXPERTS
The technicians from Air Patrol Air Conditioning are your helpful heating experts serving Farmers Branch and the entire Dallas region. We're available for all of your heating, cooling, and indoor air quality installation, repair, and maintenance needs. We also offer whole-home audits and excellent fireplace services. Simply call us today to get the professional assistance you require!