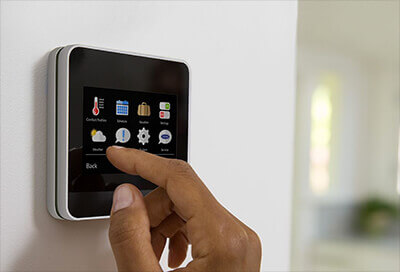 If you have noticed the various modes or settings on your thermostat, you may wonder what they mean and how they should be used. Understanding these settings can help to keep your home comfortable throughout the seasons while also ensuring the maximum efficiency of your heating and cooling system.
HEAT AND COOL SETTINGS
Your thermostat features heat and cool settings that are fairly simple to use. For instance, the cool setting is used to make your home more comfortable when it feels too warm. Likewise, you would use the heat setting when your home feels too cool. Although these two modes are somewhat self-explanatory, you might not be aware that it is possible to turn off both the heat and cool settings and still have your system run.
For instance, if you have the on setting selected and the air conditioner and furnace are both turned off, it's still possible for your HVAC system to move room temperature air around. You might be wondering why you would want to use your system this way. The most common reason for doing this would be to freshen up a space that seems stale without the need to cool or warm the air in that space.
THE AUTO SETTING
The auto setting is intended to prevent the continual running of your system. Without this setting, your system would run 24/7. In most cases, there is no need for your system to push air continuously to maintain the temperature in your home. Instead, it is more energy and cost-efficient for the unit to only push air by cycling off and on when necessary.
When the auto setting is turned on, it communicates with your HVAC system and tells it to only run when the temperature in your home dips below or above the set temperature. As a result, you do not need to worry about your system's fan working constantly to push air when it's not really necessary to do so.
ON SETTING
The "On" setting is another common setting you might notice on your thermostat. With this setting, your system will operate in a consistent manner to ensure the temperature in your home is maintained. The fan will blow air constantly rather than turning off and on. The main benefits of this setting are that you likely will notice areas of your home that are either hot or cold, a phenomenon that might be noticed when using the auto setting. Another benefit of the "On" setting is improved indoor air quality.
Although there are benefits to using the "On" setting, there are some potential drawbacks to this setting. When your system is operating in a continual manner, there may be added stress placed on the system. For instance, it's not uncommon for the blower in an HVAC system to wear down at a much faster rate than the thermostat is constantly set to on. You might also notice more troubles with dehumidifying your home when your HVAC system is constantly running. During the summer months, this can quickly create problems.
SETTINGS FOR PROGRAMMABLE THERMOSTATS
Programmable thermostats offer many convenient advantages, including the ability to program settings for your home's temperature ahead of time and at different times. For instance, with a programmable thermostat, it's possible to set the thermostat so that when your home is not occupied, it will automatically switch to a setting that is more energy-efficient. Once your home is occupied again, the thermostat can then return to a setting that is more comfortable for you and your family.
HOME AND AWAY SETTINGS
With advanced smart thermostats, it's possible to have your thermostat detect when your home is occupied and when it is unoccupied. With this option, you have the opportunity to save energy without the need to even worry about changing settings on your own.
UNDERSTANDING THE HOLD AND RUN MODES FOR PROGRAMMABLE THERMOSTATS
The hold and run modes on your programmable thermostat are ideal for those times when your schedule may experience a change from your normal routine. By using the hold button, you can lock the current temperature setting. This will serve to have the thermostat ignore any other typical programmable settings.
For instance, if you are at home on a day when you would ordinarily be unoccupied, you only need to select the hold button that morning, and then you can rest easy knowing that your home will be kept comfortable. When you are ready to return your thermostat back to the regularly scheduled settings, all you need to do is select the run setting. This will return your thermostat to the normal programmed settings.
WHEN TO USE HOLD AND RUN MODES
Still not sure when you should use the hold and run settings on your programmable thermostat?
Holidays represent an excellent opportunity for using the hold and run features of your programmable thermostat. If you will only be home for one day, such as Labor Day, the hold setting will ensure that your home is comfortable while you are off for the day.
On days when you need to stay home sick from work, the hold setting will help to ensure that you are able to lock in settings rather than having your system operate as though your home were unoccupied. Additionally, you can benefit from using a setting that is more comfortable while you are ill than what you would normally use.
Have you ever noticed that when you have guests in your home, it seems to be warmer? If so, you are not imagining it. This is because extra people in your home tend to generate additional body heat, which in turn raises the temperature in your home. When that is the case, the hold and run modes allow you to change to a lower setting to make your home more comfortable while entertaining.
Are you planning to go out of town on vacation? If so, you may be able to take advantage of a vacation mode on your programmable thermostat to ensure that your system is not working overtime while you are gone.
CHOOSING THE RIGHT SETTING
The best setting for your HVAC system is really based on whatever your needs are at the time. It's important to keep in mind that your needs might change from day to day or even from one particular time of the day to another time.
Many settings on your thermostat are designed to not only keep you and your family comfortable but also prevent your system from wearing down too quickly. If it seems as though your system is not operating as efficiently as it should, you may find that scheduling a preventive maintenance check would be a good idea. To learn more about the settings on your thermostat or to schedule a preventive maintenance check, contact us at Air Patrol Air Conditioning. We can address all of your heating and cooling repair, installation, and maintenance needs in Dallas and the surrounding areas. We also offer whole-home audits and indoor air quality solutions.