A furnace's lifespan depends on what fuel source it uses, how well it's maintained and the quality of the appliance. You should only buy from trusted brands like Lennox, Carrier and Trane. Top brands are less likely to give you major problems during their lifespan. Yearly maintenance allows you to get the expected lifespan out of the appliance as well.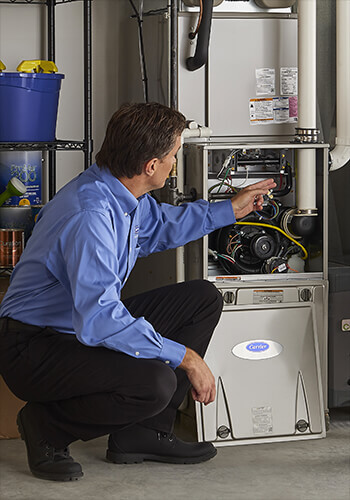 GAS FURNACES
A gas furnace lasts 10–20 years if it's well-maintained. You need to schedule a furnace tune-up once a year to keep it in good condition. During maintenance, the furnace company cleans and inspects the appliance to ensure safe and efficient operation. Although all types of furnaces need preventative maintenance, gas furnaces become more dangerous when they don't receive their annual tune-ups. Gas furnaces are ideal for use in cold climates like the northern US.
ELECTRIC FURNACES
An electric furnace lasts 20–30 years with regular maintenance. Just as with a gas furnace, you need to schedule maintenance once a year. Electric furnaces are great choices in the South because they are inexpensive and easy to maintain. Gas furnaces are less expensive to operate but have a higher initial installation cost. Air Patrol Air Conditioning, Heating & Fireplaces installs high-quality Carrier furnaces in Farmers Branch, TX, and the surrounding areas. We've won many awards and have an A+ rating with the Better Business Bureau.
OIL FURNACES
Well-maintained oil furnaces last 15–20 years. As with gas and electric furnaces, they need professional maintenance once a year. Oil furnaces are safe and efficient. They are often cheaper to operate than gas furnaces and deliver powerful heat. The downside of an oil furnace is it has a larger carbon footprint than gas furnaces.
CALL ON THE PROS
Furnaces are excellent heating systems that last a decent amount of time, especially if they're well-maintained. You can sometimes get a few more years of use out of them than expected. Air Patrol Air Conditioning, Heating & Fireplaces is a dependable heating and cooling company in Farmers Branch you can trust with a new furnace installation. Other services we offer are heating repair, heating maintenance, AC repair, AC installation, AC maintenance, whole-home audits, and indoor air quality.
Contact us to discuss your options in a new furnace or any of our other services.