TIMELY AIR CONDITIONING SERVICE

At Air Patrol Air Conditioning, Heating & Fireplaces, we offer timely and dependable AC repairs in Carrollton, TX. Having served this region since 2003, we know how important air conditioners are during the hot summer months in Texas. Delivering quality customer service is what we do. We've been a recipient of Angie's List Super Service award since 2009. Furthermore, many customers have provided us with excellent reviews over the years.
CUSTOMERS APPRECIATE THAT WE:
Have NATE-certified service technicians
Are a certified Carrier dealer
Maintain an A+ rating from the BBB
Provide prompt service
COMMON REPAIRS IN CARROLLTON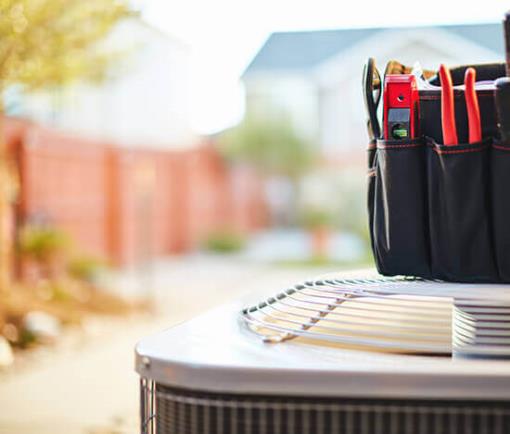 Our technicians have the skills to diagnose your AC problem. By knowing what's wrong with your unit, we can take the proper steps to repair it.
COMMON AIR CONDITIONING SERVICE REPAIRS INCLUDE:
Refrigerant leaks
Thermostat problems
Clogged lines and filters
Worn parts
Refrigerant leaks are one of those things that you can chalk up to wear and tear. As your AC unit ages, refrigerant leaks are more likely to occur. When the coolant leaks, your AC system will not operate correctly, resulting in temperature fluctuations. The placement of the leak could affect the extensiveness and the cost of the repair, which is why it's important to have a skilled AC technician assess the issue.
Thermostats can also malfunction. When you call for an AC repair in Carrollton, one of the first things that we'll look at is the thermostat. We'll make sure that it's on, level, clean, and out of direct sunlight.
In addition, air conditioning service repairs may include unblocking clogged filters or drain lines. As your AC unit ages, lint, dust, and dirt can start to build up and create blockages. If the drain line clogs, then the drain pan will start to fill up with water. This could possibly damage your system or anything else that's close to the pan. Filters can also become clogged or fill up with dirt. That's why our service technicians will check for blockages when your unit is failing to operate properly.
Keeping Our Clients Cool
By offering dependable air conditioning service repairs in Carrolton, Air Patrol Air Conditioning, Heating & Fireplaces has maintained a strong local reputation. If you hire us, we'll arrive to your home on time. Our AC technicians have the training and equipment to handle almost any AC repair from clogged drain lines to dirty condenser coils. Contact us at Air Patrol Air Conditioning, Heating & Fireplaces to make a repair appointment in Carrollton today.
Not looking for AC repair? We also offer AC installation and maintenance as well as heating repairs!